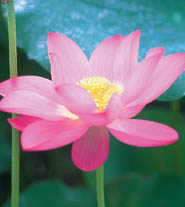 Live a modest and contented life. Excess can be shared with all sentient beings. This is the difference between Buddhas-Bodhisattvas and the laity: Buddhas-Bodhisattvas share their good fortune with everybody while the laity indulge in their good fortune, unwilling to share their fortune with others.
We should start from ourselves, to have right thoughts and conducts, before we can help others.
The cessation of unwholesome deeds must begin with eliminating our afflictions and bad habits. Cultivation of wholesome deeds must begin with the cultivation of the Three Learning, the Six Paramitas of the Bodhisattvas and the Ten Great Vows of the Universal Worthy Bodhisattvas. Integrating these to become our thoughts and applying them in our daily lives. These are the conduct to accumulate merits and virtues.
The Buddha taught us to cease greed with the practice of discipline (precepts), to cease hatred with the practice of mindfulness (mental culture), and to cease ignorance with the practice of wisdom. That is to transform greed, hatred and ignorance into discipline, mindfulness and wisdom (The Three Learning). This itself is an act to cease all unwholesome deeds and cultivate all wholesome deeds.