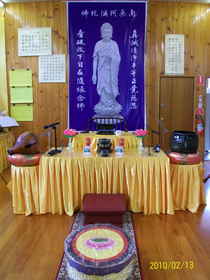 墨爾本淨宗學會,是由居士自發組建的佛教團體,尊奉 上淨下空老法師為根本導師,專修轉弘淨土法門,并與全球各地淨宗學會互相協助,奉行老法師倡導淨宗學會的統一指導原則。
從2001年,由已故老會長鄭明華、馬慧英夫婦籌建改組為維多利亞念佛會。2005年悟行法師建議更名為墨爾本淨宗學會,并由老法師惠賜墨寶,親筆題寫會名。2008年老會長往生后,學會同修恭請老法師恩准,由悟行法師接任會長職務。
學會目前有會員五十余位,以童子軍會場作為每週六的共修場所,參加共修的同修達百余人。學會另建有圖書館及小念佛堂,於2009年4月正式啟用,每週一至五及週日對外開放。同修可於此聽經、念佛、恭請法寶。
The Pure Land Learning Center is a non-profit incorporated association and was granted Tax Exempt status by the ATO in 2001. The center devotes its full effort in introducing the concept of Buddhism as an education. It guides us to be filial, respectful to our teachers, cherish our traditional values, and promote multicultural understanding between different religious and ethnic groups as The Buddha explained "WE ARE ALL ONE ENTITY".
We conduct weekly meditation, Dharma lectures, and supply free Dharma materials. All services are free of charge and everyone is welcome to join us. We follow the instruction of the Buddha to deliver his teaching to anyone who has needs or is interested in Buddhism, without discrimination and conditions. We hope everyone who practices according to the teachings will benefit spiritually and physically, and will prosper in whatever they are doing. Only then can there be harmony among people, and world peace.
Our center is affiliated with the Pure Land Learning College of Toowoomba, Queensland. We operate independently from the college in the financial and management aspects, however, we share the same mission and objectives and receive guidance from the same master, Venerable Chin Kung.