Today, Pure Land Study is the largest of all the schools of Buddhism in East Asia. The most common Pure Land practice is the recitation of Amitabha Buddha's name.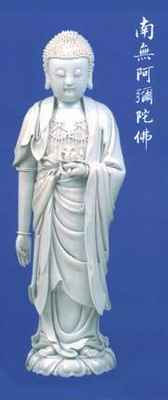 In many of his sutras or teachings, Shakyamuni Buddha spoke of another Buddha, named Amitabha Buddha, who lived on earth countless aeons ago.
Before Amitabha Buddha attained Buddhahood, he made 48 great vows to create a delightful and wonderful realm for practitioners to continue their cultivation till enlightenment.
It was called the Western Pure Land, or "Western Pure Land of Ultimate Bliss," where inhabitants are freed from the cycle of rebirth and would not regress from their cultivation so they can focus singlemindedly on attaining enlightenment. Amitabha pledged that once he became a Buddha, he would guarantee that anyone who single-mindedly recited his name with a sincere desire to be reborn in the Western Pure Land would indeed be reborn there. When Amitabha Buddha attained Buddhahood, he fulfilled this vow.