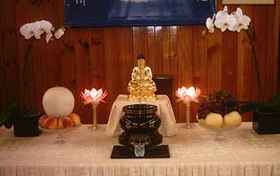 Everything in a "way place" serves as a teaching aid. Even the offerings are educational.
On the offering table we will see several objects. They are teaching aids, not objects of worship.
A glass of water
The clear water tells us that our mind needs to be as pure as the water. It should be void of greed, anger and ignorance. The water is calm without a single ripple indicating that we interact with people and matters with the serene and non-discriminating mind of equality. Also, as it is pure and calm, it "sees" clearly and thoroughly, just as a mirror would.
Flowers
Flowers symbolize the "cause" as the blossoming of flowers results in the bearing of fruit. This serves to remind us that there are consequences for our every thought, word, and action. Flowers symbolize the Six Paramitas.
Fruits
Fruits are not offered to the Buddha or Bodhisattvas to eat. They remind us that if we want the sweet fruit or the good result, we must cultivate and accumulate good deeds. Therefore, the flower reminded us the "cause" and the fruits reminded us the "effect/result".
Lamps
Lamps have replaced candles. They symbolize wisdom and brightness. They illuminate darkness, that is, our ignorance.
Incense
It symbolizes self-discipline and deep concentration as well as the giving of ourselves to benefit others.
Once we have learned the background of the artistic components in Buddhist architecture, music and statues, we will gain an enriched experience when paying a visit to a traditional Buddhist way place.